A Lebanese traveler, 29, sustains a knife injury following a violent brawl with 2 Thai males in Pattaya, Chon Buri, in the early hours of Saturday. (Image by Chaiyot Pupattanapong)
CHON BURI: A Lebanese traveler was injured in a knife attack including 2 Thai males throughout a brawl over his supposed rejection to apologise to them over a hit-and-run bike crash in Pattaya early Saturday.
The knife attack took place on Soi Lengki crossway in Pattaya Klang, Bang Lamung district, at around 2.30 am.
Pattaya cops hurrying to the scene discovered a traveler, recognized later on as Mohamad el Wazzi, 29, a Lebanese nationwide, with a knife injury listed below his left chest. The officers took him to Pattaya City Health Center.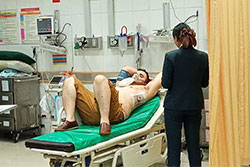 The hurt Lebanese male gets treatment at Pattaya City Health Center, Chon Buri. (Image by Chaiyot Pupattanapong)
Witnesses informed cops that the traveler was purchasing products at a FamilyMart corner store when 2 males on a bike got here and went into the outlet. They loudly implicated the Lebanese male of striking them while riding a bike and running away without providing an apology.
A quarrel rapidly intensified into a brawl, stated the witnesses. Among the 2 Thai males then took out a knife and stabbed the immigrant. They then got away on their bike.
Authorities analyzed video footage of closed-circuit tv video cameras in the location and along the escape path to discover the 2 opponents. They would later on question the hurt traveler.