An employee at Khao Yai National forest gathers garbage left by travelers after the 2016 New Year events. Every year, travelers dispose about 500 tonnes of trash at national forests. (Image by Pattarapong Chatpattarasill)
At national forests throughout the joyful season every year, do you understand what human behaviour I believe is probably much more troubling than loud sounds made by "inebriated" visitors?
It's the reckless and self-centered routine of travelers, most of whom are our fellow Thais, who leave numerous tonnes of trash accumulated in the secured natural websites.
The upcoming New Year event is no exception. As numerous city individuals need to have made strategies to indulge themselves in nature and "charge" their energy, it is not likely the trashy behaviour of park visitors indiscriminately leaving their rubbish behind will disappear.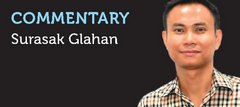 Surasak Glahan is Deputy Editorial Pages Editor, Bangkok Post
Yet our park authorities are playing hardball versus drinkers at these websites (a much smaller sized issue, I think), while being much softer on litterers.
The head of the National forest, Wildlife and Plant Preservation Department on Sunday exposed a brand-new step to strictly restrict alcohol intake at its parks and threatened legal action versus lawbreakers.
Well, that's fine. Drinking is not the most admirable things to do there (although I still question why it is entirely prohibited).
However what about cluttering? The department late last month stated it prepared to restore its unsuccessful effort to "look for cooperation" from travelers to not litter in the parks.
Winter Season is the "to-die-for" time of the year for primarily domestic travelers, particularly workplace employees in huge cities who have actually had enough of year-long shopping and hanging out at hip locations, to head for high-altitude areas in mountainous national forests.
According to the department, there were 12.9 million visitors to national forests in 2015, creating 1.9 billion baht in earnings.
It is approximated that each traveler created 0.5 kilogrammes of rubbish daily. The company was delegated handle 500 tonnes of waste which is viewed as beyond the authorities' capability to manage.
After the 2016 New Year event, Doi Inthanon National Forest in Chiang Mai was entrusted over 70 tonnes of trash to tidy up, created by 70,366 travelers throughout a four-day duration.
Khao Yai National Forest in Nakhon Ratchasima came 2nd, with 24 tonnes of rubbish, followed by Noppharat Thara Beach-Phi Phi Island National Forest in Krabi, Erawan National Forest in Kanchanaburi and Phu Kradueng National Forest in Loei, according to the news company PPTV, mentioning figures offered by the department.
With the upcoming New Year, it appears like the department is still cautious of ruining the joyful sensations of tourists and is preventing being too rigorous on trash disposing.
It will let revellers continue with their routine of ruining nature which they can do with fairly little threat of being penalized.
Yet if the company can mobilise resources to punish drinking alcohol, it might have done the exact same with littering.
It is possible some drunks might hurt animals and disrupt others as declared by the department. However such a conclusion is judgmental, considered that not all individuals consuming wind up triggering issues.
In reality, an immediate step required at national forests is an overall restriction on disposing garbage and fines for lawbreakers.
In previous years, the department requested for cooperation from park visitors to take trash house and prevent bringing foam containers with them into the parks.
Park authorities even dispersed rubbish bags to visitors on their method to the parks, inquiring to leave the bags at designated areas.
Some holidays-makers worked together, others overlooked the demands.
Pictures of beaches and mountains being ruined with plastic and foam waste turn up in media reports every year after New Year.
In the end, authorities at the parks and regional administration workplaces need to generate big trucks to take the rubbish far from the parks to incinerators.
However there is a lot garbage, consisting of some which is not quickly eco-friendly, that authorities have actually needed to bury a few of it in the parks instead of take it out with them.
It is not simply safeguarded locations that suffer this sort of reckless behaviour; other traveler locations have actually likewise fallen victim to it.
According to the UN Environment Program, Thailand is the sixth-biggest polluter in regards to plastic waste that gets in the oceans and threatens marine life
Our 24 seaside provinces produce about 1 million tonnes of waste every year, and about 10% is thought to be launched into the seas, according to the Ministry of Natural Resources and Environment.
However our authorities appear tolerant of such behaviour.
For example, in January, the Contamination Control Department stated it would deal with regional administrative organisations to enhance waste management in 4 traveler areas: Koh Samet in Rayong, Pattaya in Chon Buri, Koh Phi Phi in Krabi, and Petchabun province, "to make those locations more attractive to travelers".
The companies must not be continuously tidying up the mess made by travelers and making things look good for their next go to.
Instead of searching down drinkers (a number of whom might not know the brand-new guideline yet), our state companies must have made disposing rubbish in these safeguarded locations unlawful.
They must likewise run projects looking for not simply cooperation from travelers not to litter, however to pity those who dispose trash at the parks, and great them.
Obviously, if a trash restriction is enforced there will not suffice authorities to keep their eyes on every traveler.
However the step would send out a strong message that this routine is not to be endured and is unlawful. Travelers can then watch on each other's littering behaviour.
We do not need to squander human and funds tidying up rubbish at these gorgeous natural websites. We require to tidy up the trashy routines of our travelers.